Allen Chi's entrepreneurship abroad has offered him an international perspective. Bringing foreign ideas and strategies back home has enriched his approaches and startup pursuits.
In his entrepreneurial pursuits, Allen Chi often travels internationally. While meeting with foreign entrepreneurs, Chi is often exposed to new and innovative concepts in the startup sphere.  Bringing these new perspectives home with him, the startup savvy entrepreneur is able to launch projects in a different way.  From experience, he knows that there is much to be learned from traveling abroad — whether for professional or personal purposes.
Over the years, Allen Chi has traveled to numerous countries to meet with entrepreneurs and establish startups internationally.  His partners in these pursuits often value the international perspectives he brings to the table. Coincidentally, Chi values their perspectives as well!  Swapping strategies has always been an interesting part of entrepreneurship for him. But the truly international perspective gained from traveling the world is beyond valuable and enriching to his entrepreneurial processes.
So far, Allen Chi has traveled to Turkey, the United Kingdom and Greece for his professional pursuits.  He looks forward to engaging with more entrepreneurs seeking international perspectives.
Entrepreneurship Abroad Internships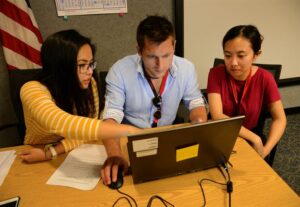 Since 2018, Allen Chi has been actively involved in the educational sphere. Now, inspired by his entrepreneurship abroad, Chi is interested in shifting his focus in the direction of educational initiatives that share his international views.  He's also interested in encouraging programs to take on comparative education approaches.
Allen Chi believes that there are an incredible amount of lessons to be learned from traveling.  He has benefited from the process himself! Now, he's interested in introducing this to the next generation of entrepreneurial hopefuls.  He's particularly interested in promoting internships that connect American students with startups in other countries.  
Some of the initiatives he's interested in connecting with include The Intern Group, Global Experiences, Connect-123 and GVI.  These programs facilitate international internships for students pursuing the entrepreneurial path.